Weekend
This weekend I'm off to my parents! I will:
Este fim-de-semana vou para casa dos meus pais! Eu vou: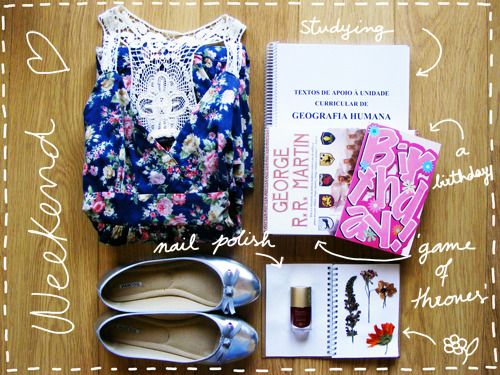 - be celebrating my sister's 25th birthday this Sunday!
- celebrar o 25º aniversário da minha irmã este Domingo!
- be studying (even though I tried to do everything ahead so I can enjoy this weekend, it doesn't change the fact I am less than a month away from finishing this semester and have plenty of things to do - I can always study on the train on my way home!)
- estudar (apesar de ter tentado deixar tudo avançado para aproveitar o fim-de-semana, isso não muda o facto de estar a menos de um mês de acabar este semestre e ter imensas coisas para fazer - posso sempre estudar no comboio a caminho de casa!)
- be painting my nails (just because I took off my nail polish and still didn't get the time to paint my nails again)
- pintar as minhas unhas (só porque tirei o meu verniz e ainda não tive tempo de as pintar de novo)
- be doing walks with my family while collecting some pretty flowers to press on my notebook
- fazer caminhadas com a minha família e coleccionar algumas flores bonitas para prensar no meu caderno
- hopefully (if there's still a bit of time), be reading some George R. R. Martin - I miss it!
- com sorte (se ainda tiver tempo), ler um pouco de George R.R. Martin - tenho saudades!
Tenham um óptimo fim-de-semana!