Friday Favourites
Friday Favourites #12
2.
Write On! Pencil Necklace
3.
Write On! Pencil Bangle
4.
Write On! Pencil Ring
5.
Big Sharpy Pencil Sharpener Ring
You all know by now how obsessed I am with anything that features a pencil, a rubber, a sharpener... pretty much anything that evokes my passion for drawing. I am proud of being an artist and I love to show it off to everyone so, if I was able to choose, I'd be wearing pencils on my clothes everyday. Accessories included!
This being said, you might just imagine how excited I was when I found Me & Zena and their incredible jewelry! Oh my, doesn't it feel like heaven?
Já todos vocês sabem que eu sou obcecada por tudo o que tenha um lápis, uma borracha, uma afiadeira... basicamente qualquer coisa que evoque a minha paixão por desenhar. Tenho orgulho em ser uma artista e adoro mostrá-lo a todos, por isso, se pudesse escolher, usaria roupas com lápis todos os dias. Acessórios incluídos!
Dito isto, podem imaginar o quão entusiasmada em fiquei quando encontrei a Me & Zena e a sua bijuteria incrível! Oh Deus, parece que estou no céu!
(
PinClove
)
Speaking of pencils, I just found out this amazing skirt with a print of pencil sharpeners!!! It so much reminds me of this dress so you may imagine my reaction when I saw this! It's even on sale so I immediatly felt the impulse to buy it... and it seems this brand only ships for Australia! I'm totally heart broken, I need this skirt so bad! *cries*
Falando de lápis, descobri recentemente esta fantástica saia com um padrão de aparas de lápis!!! Lembra-me tanto este vestido por isso podem imaginar qual foi a minha reacção quando vi isto! Até está em promoção e eu senti imediatamente o impulso de a comprar... e parece que só enviam para a Austrália! Estou de coração partido, preciso tanto desta saia! *chora*
This t-shirt is so ME! In case you don't know, I hail from Paris and for that reason I love everything frenchy-like. This t-shirt is absolutely genious, I love it! Plus, it comes on my favourite colour combination (black+red+white), it truly reminds me of this one I own! I'm terribly forcing myself not to buy this one but it's quite tempting I must say!
Esta t-shirt é tão 'EU'! Caso não saibam, eu sou oriunda de Paris e por essa razão adoro tudo o que seja francês. Esta t-shirt é absolutamente genial, adoro-a! Além disso, vem na minha combinação de cores preferida (preto+vermelho+branco), lembra-me muito desta que eu tenho! Estou a obrigar-me a não a comprar mas tenho a dizer que é bem tentador!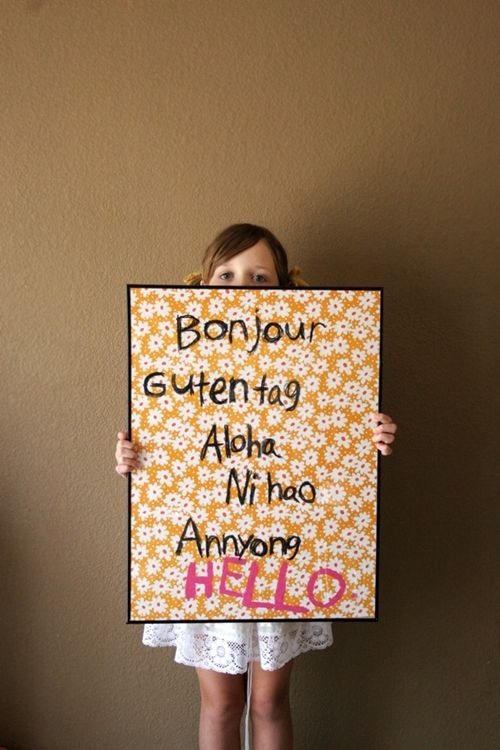 As a language lover, I do believe everyone should learn a foreign language. If possible, more than just one. And I do believe it's really important kids start learning a foreign language at an early age so I really enjoyed seeing this project Katie did with her daughter Hope. Whether you do have or do not have children, I'd say this project is a must-do! Just by curiosity, what languages do you guys speak? I'd love to know!
Como uma amante de línguas, acredito que todos nós deveríamos aprender uma língua estrangeira. Se possível, mais do que uma. E acredito que é importante as crianças começarem a aprender uma língua estrangeira bem cedo por isso gostei muito de ver este projecto que a Katie fez com a sua filha Hope. Quer tenham ou não filhos, eu diria que este projecto é algo a ser fazer! Só por curiosidade, que línguas falam? Adorava saber!
I have already shared one of Coeur de Pirate's music videos here on the blog but I couldn't help but sharing another! I have been in love with Adieu for a while now but only this week I found there was a video for this song (I know, shame on me!) and I must say I now love this song even more! The video is, in my opinion, brilliant and everyday I like this girl more and more!
Já partilhei um vídeo da Coeur de Pirate aqui no blog mas não podia deixar de partilhar outro! Tenho estado apaixonada pela Adieu já há algum tempo mas só esta semana descobri que havia um vídeo para esta música (eu sei, que vergonha!) e tenho a dizer que agora ainda gosto mais da canção! O vídeo é, na minha opinião, brilhante e a cada diz gosto mais e mais desta rapariga!