Fashion
Yellow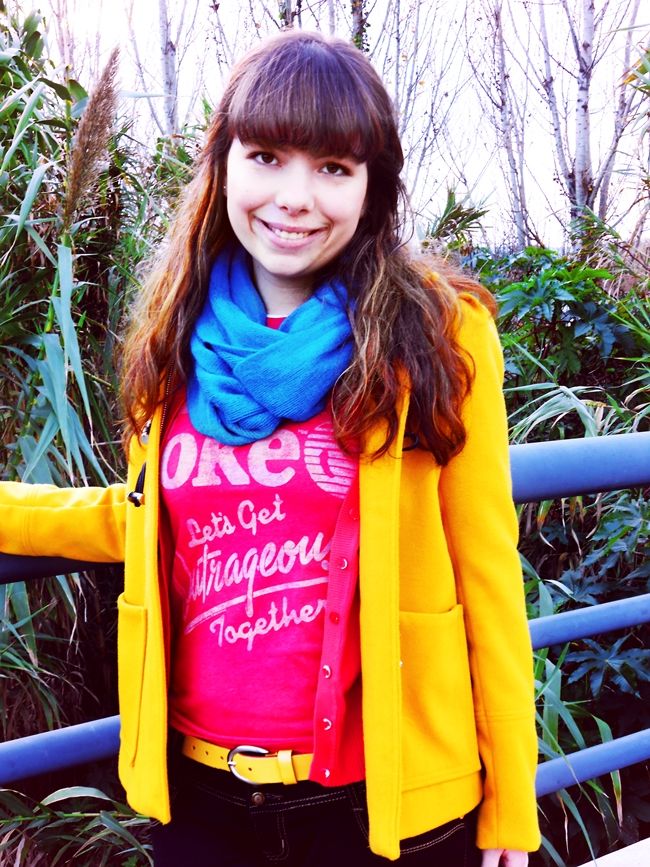 ♫ ♪ Yellow - Coldplay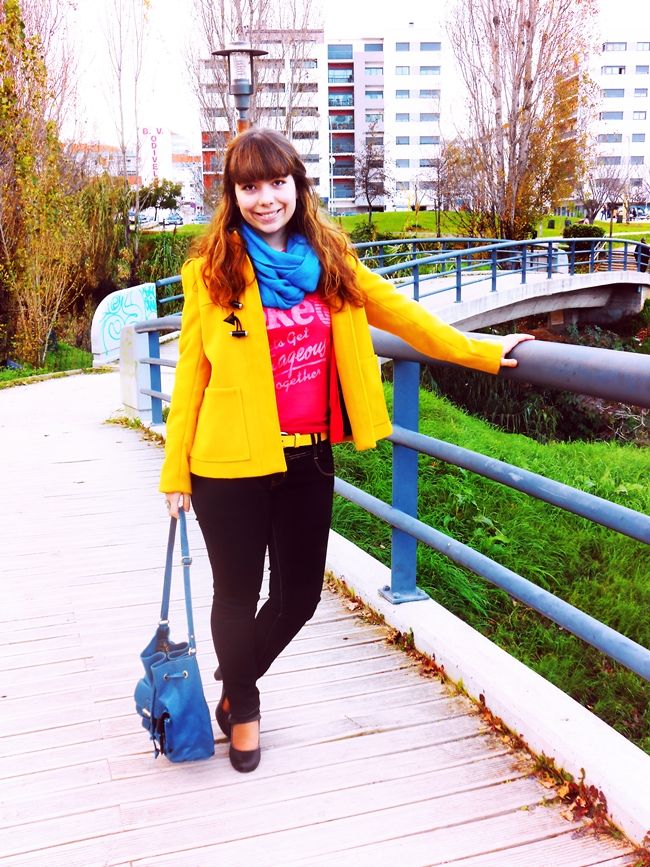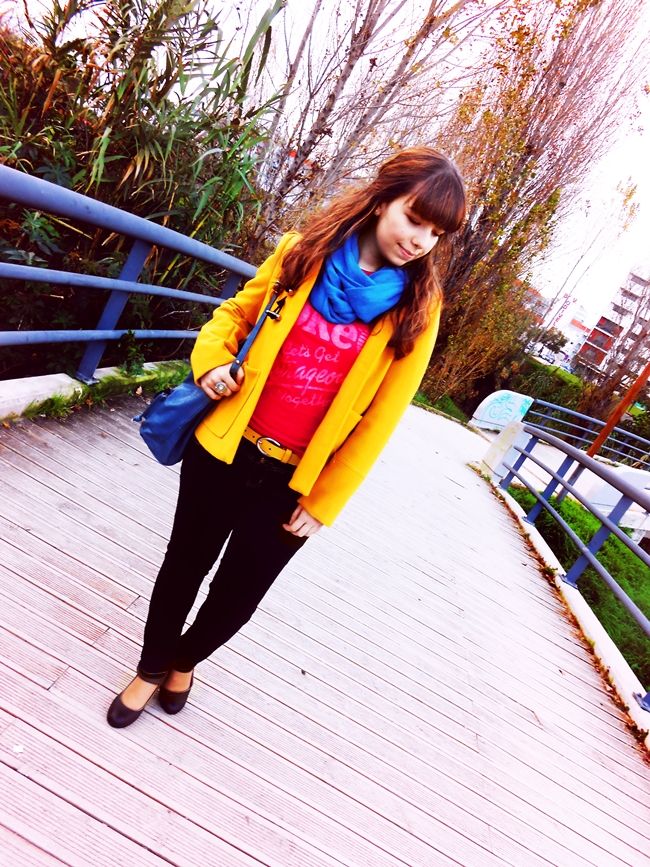 Look at the stars
Look how they shine for you, and everything you do
Yeah, they were all yellow
As promised, you can finally see photos of me with my new hairstyle! I used to have highlights on my hair and for some reason I thought now was the right time to get back to it and forget my one-colour-hair. I also cut my hair but I suppose it grows to the speed of the light so you probably won't notice it that much. Not that I cut that much hair, I did that many years ago and I swore I'd never do it again (let's just say it was a big shock as I passed from having very long hair to very very short hair!). I can't believe I had short hair (sort of a bob cut) until I was like 9 years old or something (then I let my hair grow and then I did that big cut and then I suppose I never got the courage to cut it that much again). In conclusion, I suppose I'm a bit conservative when it comes to my hair. At least right now. A few years ago, when I dressed up completely different, I wanted to dye my hair in different colours and I suppose it's only because my mom stopped me from doing it that I don't have something like orange and black hair today. This being said, I got into a comfort zone where I just don't change my hair that much. Anyone out there who feels the same way?
Como prometido, podem finalmente ver fotos com o meu novo cabelo! Eu costumava ter madeixas no meu cabelo e por alguma razão achei que já era altura de voltar a ter e esquecer o meu cabelo de uma só cor. Também cortei o cabelo mas suponho que cresce à velocidade da luz por isso provavelmente não vão reparar muito. Não que eu corte muito o cabelo, fiz isso há alguns anos e jurei nunca mais o fazer (vamos apenas dizer que foi um grande choque porque passei de um cabelo muito longo para um cabelo muito muito curto!). Nem posso acreditar que tive cabelo curto (uma espécie de corte bob) até aos meus 9 anos ou assim (depois deixei o meu cabelo crescer e depois fiz esse grande corte e suponho que nunca mais tive coragem de o cortar tanto assim de novo). Em conclusão, suponho que sou um pouco conservadora no que toca ao meu cabelo. Pelo menos agora. Há uns anos atrás, quando me vestia de uma forma completamente diferente, queria pintar o meu cabelo de cores diferentes e suponho que só por a minha mãe me ter impedido é que hoje não tenho algo como cabelo laranja e preto. Dito isto, entrei numa zona de conforto em que não quero mudar o meu cabelo muito. Mais alguém se sente assim?

Coat

Casaco

: H&M | T-shirt: c/o Jukupop (available here disponível aqui)| Circle Scarf

Cachecol

: Primark | Belt

Cinto

: Lanidor | Bag

Mala

: c/o Kristine's Collection (available here disponível aqui

)

|

Shoes

Sapatos

:

Arian




One thing I think I've never mentioned on the blog is my passion for print tees. Now I know some of you might think how do I love tees when you don't get to see me wearing them that often. Truth is, I have a large collection of tees but when I started this blog I wanted to evolve a bit when it comes to my style so I told myself I would make an effort to dress something else than just a print tee and a pair of jeans. Okay, you might have seen a couple of my tees around the blog (like

this

,

this

,

this

,

this

and

this

) but, believe me, that's nothing. I really have a large collection of tees. Of course I'll never say no to adding another one to my drawer (yes, I do have a drawer just for my tees), specially if it's one that evokes vintage ads like this one. Because, let me tell you, I love printed tees but I love even more tees printed with vintage ads. So, having a tee saying "Cherry Coke, let's get outrageous together" seems a great fit for me. And I decided that maybe I should break my rule of not wearing tees too much and show you this one. Needless to say I've worn it a dozen times already (just wait until Summer and I pretty much won't wear anything else!) and one of those times I decided to go for one my favourite Winter styles: colour. I'm a bit colour crazy and I think it gets even worse in Winter because I hate to look boring, depressed, whatever. So, yes, colour. I love colour. Just in case you can't tell.

Uma coisa que acho que nunca mencionei aqui no blog é a minha paixão por t-shirts estampadas. Eu sei que alguns de vocês vão pensar como é que eu gosto de t-shirts quando não me vêm a usá-las muitas vezes. A verdade é que tenho uma grande colecção de t-shirts mas quando comecei este blog queria evoluir um pouco em termos de estilo e por isso disse a mim mesma que ia fazer um esforço para vestir algo que não fosse uma t-shirt estampada e um par de calças de ganga. Okay, já devem ter visto algumas t-shirts aquilo pelo blog (como esta, esta, esta, esta e esta) mas, acreditem em mim, isso não é nada. tenho mesmo uma grande colecção de t-shirts. É claro que nunca diria não a adicionar mais uma à minha gaveta (sim, tenho uma gaveta só para t-shirts), especialmente se for uma que me lembre de anúncios vintages como esta. Porque, deixem-me dizer-vos, adoro t-shirts estampadas mas adoro ainda mais t-shirts estampadas com anúncions vintage. Por isso, ter uma t-shirt a dizer "Cherry Coke, let's get outrageous together" pareceu-me óptimo. E decidi que talvez devesse quebrar a minha regra de não usar t-shirts demasiado e mostrar-vos esta. Não é preciso dizer que já a usei uma dúzia de vezes (esperem até ao Verão e não vou usar basicamente mais nada!) e numa dessas vezes decidi-me por um dos meus estilos de Inverno preferidos: cor. Sou um pouco louca por cores e penso que fica ainda pior no Inverno porque odeio parecer aborrecida, deprimida, o que for. Por isso, sim, cor. Adoro cor. Para o caso de não terem reparado.