Fashion
Brown-eyed girl turn blue
♫ ♪ The look - The Baseballs
Dress (worn as a top)

Vestido (usado como um top)

: c/o Kristine's Collection
(available here disponível aqui)
| C
ardigan

Casaco de malha

: c/o thecolorIS
(available here disponível aqui)
| Shirt
Camisola

: C&A | Skirt
Saia

: c/o MagixD
(available here disponível aqui)
|
Trench
: Stradivarius |
Tights
Collants

: Primark |
Earrings
Brincos

: Parfois |
Hairbow
Gancho de cabelo

: DIY |
Shoes
Sapatos

: Arian

I have to confess sometimes I plan what to wear. But that doesn't always happen. Once in a while I start with a piece of clothing from my closet and it almost looks like the outfit builds itself, I start adding another and another piece and, without noticing, I have a full outfit ready to wear. This outfit was definitely one of those. I pretty much just meant to wear this lovely cardigan but I ended up mixing some of my favourite colours: white, black, red and blue. It just felt right!
Speaking of my cardigan, I am so loving it! Along with my sister, we call it "the Chanel coat" as it reminds us a lot of the aesthetics of Coco Chanel (and it surely makes me wanna watch this movie again!). This cardigan is simply chic, one of those staples you need in your wardrobe and that you can easily match with anything in any style, a basic that you can keep for years! Without any doubt, I love it!
Tenho que confessar que às vezes planeio o que vestir. Mas isso nem sempre acontece. De vez em quando começo com uma peça de roupa do meu armário e quase que parece que o outfit se constrói a si mesmo, começo a adicionar uma e outra peça e, sem notar, tenho um outfit completo pronto a usar. Este outfit foi sem dúvida um desses. Basicamente só queria usar este casaco lindíssimo e acabei por misturar algumas das minhas cores preferidas: branco, preto, vermelho e azul. Pareceu-me bem!
Falando do casaco, adoro-o! Juntamente com a minha irmã, chamamos-lhe "o casaco Chanel" já que nos lembra a estética da Coco Chanel (e seguramente faz-me querer ver este filme de novo!). Este casaco de malha é simplesmente chique, uma daquelas peças de que precisamos no nosso guarda-roupa e que facilmente se combina com qualquer coisa em qualquer estilo, um básico que se pode guardar por anos! Adoro-o, sem dúvida!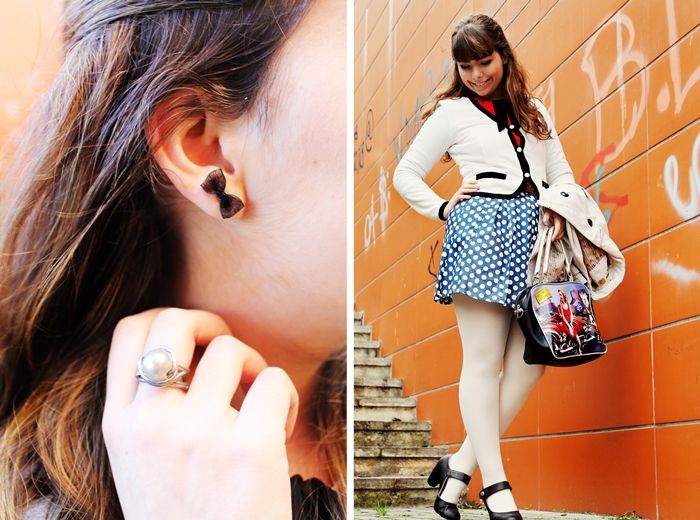 If you happen to have a blog and post your outfits, you may know it ain't always easy to stick with a routine for taking photos and, even when you try hard, there may be a lot of factors against you. For this very specific outfit, it was the weather. I can't begin to say how hard it was to get some photos! I started taking photos of this outfit two weeks ago but right after we started taking some shots, it started raining like hell so we had to give up! I was only able to take photos again this weekend - it wasn't raining but it was very very windy!
Besides weather fighting against me, I often don't get the time to take photos and, most of the time, I have no one to take me some photos. This being said, I get quite sad I don't get the chance to post most of my outfits (I'd say 99% of them) here on the blog, sometimes there's an outfit that I find very pretty and think that I'd love to share but I never get the chance to... I am thinking to get back at taking some photos (at least during week days) inside home (somehow like these ones), even though I don't want to stop taking photos outside. What do you think? Would you like to see me posting more outfits even if I'd take photos by myself at home? Yes or no?
Se tiverem um blog e publicarem fotos de outfits, devem saber que nem sempre é fácil manter uma rotina para tirar fotos e, mesmo quando se tenta, há imensos factores que podem estar contra nós. Neste outfit em específico, foi o tempo. Nem consigo explicar o quão difícil foi ter algumas fotos! Comecei a tirar fotos deste outfit há duas semanas atrás mas mesmo depois de termos começar a tirar algumas fotos, começo a chover imenso por isso tivemos de desistir! Só consegui voltar a tirar fotos de novo este fim-de-semana - não estava a chover mas estava muito muito vento!
Para além do tempo a lutar contra mim, muitas vezes não tenho tempo para tirar fotos e, na maior parte do tempo, não tenho que me tire fotos. Dito isto, fico um bocado triste por não conseguir publicar a maior parte dos meus outfits (eu diria 99% deles) aqui no blog, às vezes há um outfit que acho bonito e que gostava de partilhar mas nem sempre o consigo fazer... estou a pensar voltar a tirar algumas fotos (pelo menos durante a semana) dentro de casa (mais ou menos como estas), apesar de não querer deixar de tirar fotos na rua. O que acham? Gostavam de me ver a publicar mais outfits ainda que tirasse fotos dentro de casa? Sim ou não?
♥