New In
New In: January + February
Starting 2013, I decided to post on the blog what I have bought each month (not only to share it with you but also to keep a record of my purchases)!
Last month I didn't get the chance to share what's new in my closet so here's a post with both my purchases from January and February!
Começando em 2013, decidi publicar aqui no blog o que comprei em cada mês (não só para partilhar convosco mas também para manter um registro das minhas compras)!
No mês passado não consegui partilhar as novas adições ao meu armário por isso aqui fica um post com as minhas compras tanto de Janeiro como de Fevereiro!
NEW IN: JANUARY
NOVO EM: JANEIRO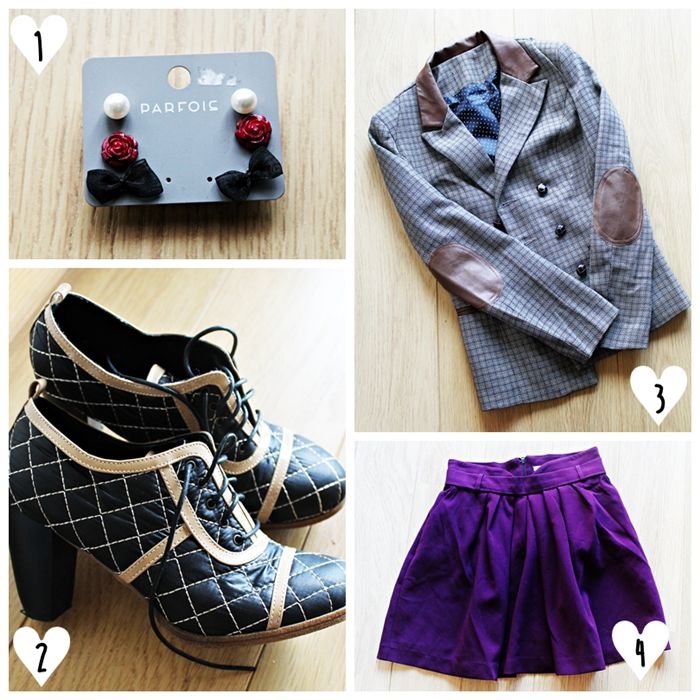 | 1. Earrings from Parfois - were 4.99€, reduced to 2.99€ (were a gift from my mom) Brincos da Parfois - eram 4.99€, estavam a 2.99€ (foram uma prenda da minha mãe)|
| 2. Shoes from Foreva - were 49.9€, reduced to 19.96€

Sapatos da Foreva - eram 49,9€, estavam a 19,96€

|
| 3. Blazer from Sheinside - was 44.59€, reduced to 26.45€ (c/o Sheinside) Blazer da Sheinside - era 44.59€, estava a 26.45€ (c/o Sheinside) |
| 4. Skirt from Sfera - was 30.99€, reduced to 19.99€ (was a gift from my mom) Saia da Sfera - era 30.99€, estava a 19.99€ (foi uma prenda da minha mãe) |
On January, I bought a pack with three different pairs of earrings (which I've been wearing a lot!) and got an amazing blazer with elbow patches from Sheinside (which you can see me wearing here)!
I wasn't planning on buying anything at sales but after I changed my mind when I saw these shoes! I fell in love with these shoes the moment I saw them, a couple of months ago at a shopping center near my house. I go there quite often so I saw those shoes at the store window a million times but they were quite pricey for me so I just kept looking until the day I saw them on sale and decided to try them on. It was instant love so I had to bring them home!
Last but not least, my mom gifted me this amazing skirt which I love so much! You can see me wearing it and read more about it here!
Em Janeiro, comprei um conjunto com três pares diferentes de brincos (que tenho usado imenso!) e recebi este fantástico blazer com cotoveleiras da Sheinside (que me podem ver a usar aqui)!
Não estava a planear comprar nada nos saldos mas mudei de ideias quando vi estes sapatos! Apaixonei-me por estes sapatos no momento eu que os vi, há uns meses atrás, num centro comercial perto de minha casa. Vou lá frequentemente por isso vi estes sapatos na montra um milhão de vezes mas eram um bocado caros para mim por isso continuei a olhar até ao dia em que os vi em promoção e decidi experimentá-los. Foi paixão instantânea por isso tinha de os trazer comigo para casa!
Por fim, a minha mãe ofereceu-me esta saia fantástica que eu adoro! Podem ver-me a usá-la e ler mais sobre ela aqui!
NEW IN: FEBRUARY
NOVO EM: FEVEREIRO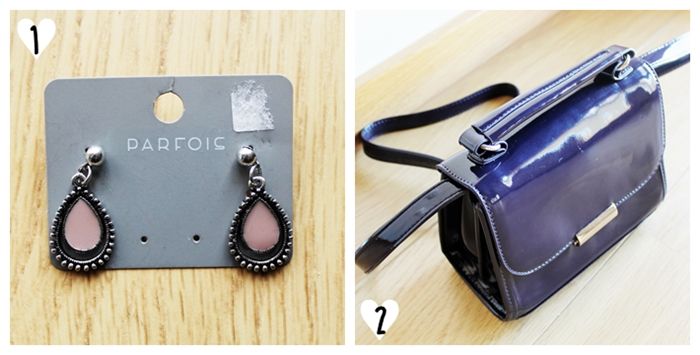 | 1. Earrings from Parfois - were 3.99€, reduced to 0.99€

Brincos da Parfois - eram 3.99€, estavam a 0.99€

|
| 2. Bag from Parfois - was 24.9€, reduced to 2.99€

Mala da Parfois - era 24,9€, estava a 2,99€

|
I saw these earrings and immediatly loved them so I thought I'd bring them with me (reminds me of Thrift Shop - "it was 99 cents!").
This bag was a great find! I was at a shop with my sister, looking around just for fun when I saw this bag. I found it so pretty and decided to check the price. The tag said 10.9€ so I thought "too bad I don't have enough money to buy it now" and left the bag there. I kept looking and then I saw another bag like that and (I'm not sure why), I decided to pick it. The price tag said 2.99€ on this one! Someone had removed (or forgot to add) the new price tag so the first bag was actually showing the price from the first sale! I got so excited I grabbed that bag immediatly! I mean, I love it and it was such a huge bargain!
Vi estes brincos e adorei-os por isso pensei em trazê-los comigo (faz-me lembrar a Thrift Shop - "eram 99 cêntimos!").
Esta mala foi uma óptima descoberta! Eu estava numa loja com a minha irmã, apenas a ver por diversão quando vi esta mala. Achei-a tão bonita e decidi ver o preço. A etiqueta dizia 10.9€ por isso pensei "que pena não ter dinheiro suficiente para a comprar agora" e deixei-a ali. Continuei a ver coisas e depois encontrei outra mala como esta e (não sei bem porquê), decidi pegar nela. A etiqueta dizia 2.99€ nesta! Alguém tinha removido (ou esquecido de colocar) a nova etiqueta do preço por isso a primeira mala tinha o preço dos primeiros saldos! Fiquei tão entusiasmada que peguei nela imediatamente! Quer dizer, adoro-a e foi uma pechincha!

Have you bought something lately that you love? Did you find any bargains recently?
Compraram alguma coisa ultimamente que adoram? Encontraram alguma pechincha recentemente?