Livros
What I Read: March
To be honest, I haven't read that much in March, not because I didn't have the time but mostly because after I finished reading these three books (not even half of March was gone), I simply didn't know what to read next. I have plenty of books left to read but I suppose I just didn't feel like it. To sum up, this month I have more three books to add to my 2013 reading goal!
Para ser honesta, não li lá muito em Março, não porque não tivesse tempo mas porque, depois de acabar de ler estes três livros (ainda nem estávamos a meio de Março), simplesmente não sabia o que ler a seguir. Tenho vários livros para ler mas suponho que simplesmente não me apeteceu. Para resumir, este mês tenho mais três livros para adicionar ao meu objectivo de leitura de 2013!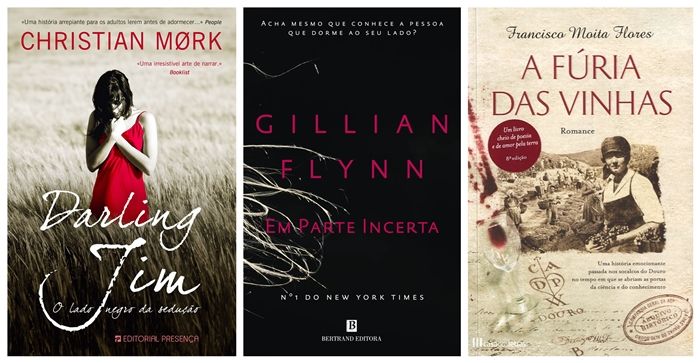 ♥
Darling Jim - Christian M
ø
rk
♥
Darling Jim gathers psycologhical thriller, romantic suspense, horror, legends and fairytales.
Everything begins with the appearance of the corpses of two sisters and their hunt, murdered in a house in Malahide. The mystery surrounding the sinister discovery seems unsolvable, but when Niall, a younger postman, finds the diary of one of the sisters and decides to start an investigation on his own, the truth starts to come up.
Darling Jim reúne thriller psicológico, suspense romântico, terror, lendas e contos de fadas. Tudo começa com o aparecimento dos cadáveres de duas irmãs e da tia de ambas, assassinadas numa casa em Malahide. O mistério que envolve a sinistra descoberta parece insolúvel, mas quando Niall, um jovem carteiro, descobre o diário de uma das irmãs e decide fazer uma investigação por conta própria, a verdade começa a vir à luz do dia.
♥
Gone girl

Em parte incerta

- Gillian Flynn
♥
In a Summer morning in Missouri, while Nick and Amy celebrate their 5th anniversary, Amy disappears. With the pressure of the police and the media, Nick starts a series of lies, falsities and non-adequate behaviors. He is elusive and bitter, but is he really a killer? While everyone starts to suspect of Nick, he, supported on his twin Margo, assures he's innocent. But, if it wasn't him, where's his wife?
Numa manhã de Verão no Missouri, enquanto Nick e Amy celebram o seu 5º aniversário de casamento, Amy desaparece. Com a pressão da polícia e dos media, Nick começa um rol de mentiras, falsidades e comportamentos pouco adequados. Ele está evasivo e amargo, mas será mesmo um assassino? Enquanto todos começam a suspeitar de Nick, este, apoiado pela sua gémea Margo, assegura que é inocente. Mas, se não foi ele, onde está a sua mulher?
♥
A fúria das vinhas

- Francisco Moita Flores
♥
This novel tells the epic fight against the phylloxera, a plague that, in the second half of the XIX century, was about to destroy the vineyards of the Douro. In the same time that, all over Europe, appeared the first techniques and attempts to create a method for criminal investigation.
Vespúcio Ortigão, bachelor detective, chases a serial killer in Régua, confronting the fear, the superstitions and beliefs of the ancient Portugal, fearing God and the Devil, shuddering before the plague and the crimes.
Este romance narra a epopeia da luta contra a filoxera, uma praga que, na segunda metade do século XIX, ia destruindo definitivamente as vinhas do Douro. Na mesma altura em que, por toda a Europa, surgiam as primeiras técnicas e tentativas de criação de um método para a investigação criminal.
Vespúcio Ortigão, bacharel detective, persegue na Régua um serial killer, confrontando-se com o medo, as superstições e as crenças do Portugal antigo que, temente a Deus e ao Demónio, estremecia perante o flagelo da praga e dos crimes.