Friday Favourites
Friday Favourites #30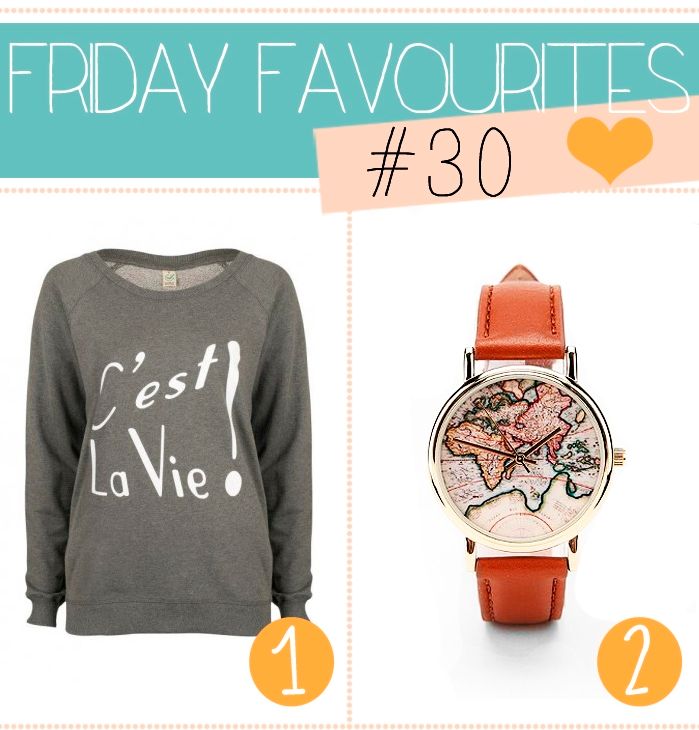 | 1.
"C'est La Vie" Sweater
| 2.
Around the world leather watch
|
♥
I love sweaters with messages on it, specially if we're talking about a french saying! Do you have any idea how often I say "C'est la vie"? (Way too much, believe me!). I would absolutely love to get my hands on this beauty!
Eu adoro camisolas com mensagens, especialmente se estivermos a falar de uma expressão francesa! Fazem ideia de quão frequentemente eu digo "C'est la vie"? (Demasiado, acreditem em mim!). Gostava tanto de ter esta beleza nas minhas mãos!
♥
I doubt it's a secret I have a huge passion for anything with a map print on it so when I saw this gorgeous watch I knew I wanted it so badly! I wish we had an Urban Outfitters store here so I could try it on!
Duvido que seja um segredo que eu tenho uma paixão enorme por o que quer que seja que tenha um padrão de mapa, por isso quando vi este relógio lindíssimo soube logo que o queria! Quem me dera que tivéssemos uma loja da Urban Outfitters aqui para eu o experimentar!
| 3.
Girl about town Shoes
| 4.
Float Away Dress
|
♥
I'd be lying if I'd say I haven't been eyeing these shoes for a very very long time. I found out this shop by accident and fell in love with a couple of their products but these shoes totally got my attention! They're way too pretty!
Estaria a mentir se dissesse que não tenho andado de olho nestes sapatos há muito muito tempo. Descobri esta loja por acidente e apaixonei-me por uns quantos de produtos, mas estes sapatos captaram a minha atenção! São tão bonitos!
♥
Saying I love prints is an understatement, I am crazy for prints. If we're talking about a navy inspired print, then my level of crazyness might just get even higher so you may imagine how I felt when I found out this PERFECT dress. This is so on my wishlist!
Dizer que eu gosto de padrões é dizer pouco, eu sou doida por padrões. Se estivermos a falar de um padrão com algo relacionado com marinheiros, então o meu nível de loucura pode ficar ainda mais alto, por isso podem imaginar como me senti quando encontrei este vestido PERFEITO. Está sem dúvida na minha wishlist!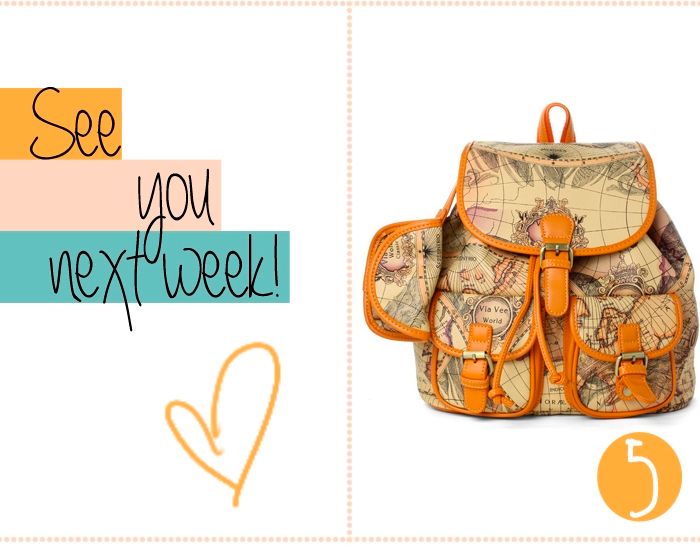 | 5.
Map Print Backpack
|
♥
Speaking of map prints, I've seen many bags out there with it. They're gorgeous, yes, but they always seem to have a little flaw that forces me not to buy them. However, when I saw this one, I knew it had everything I want (it's a backpack, in a gorgeous colour and in a fantastic model)! I am so in love with it!
Falando de padrões de mapas, tenho visto muitas malas por aí. São giras, sim, mas consigo sempre encontrar algum defeito que me obriga a não as comprar. Contudo, quando vi esta, soube que tinha tudo o que eu quero (é uma mochila, numa cor maravilhosa e com um modelo fantástico)! Estou tão apaixonada!