Cinémathèque
Cinémathèque: Mince Alors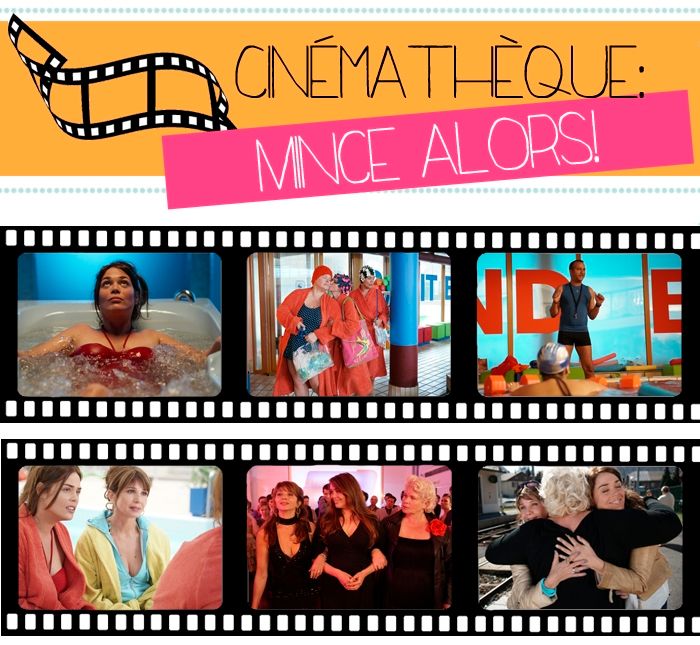 Mince Alors! recently aired in Portugal and, once again, I wasn't the one to find out about this movie (I'm starting to believe people see french movies and need to immediatly tell me about them!) but the plot made me want to watch it right away!
O Mince Alors! estreou recentemente em Portugal e, mais uma vez, não fui eu que descobri este filme (começo a acreditar que as pessoas vêem filmes franceses e têm imediatamente que me falar deles!), mas a história fez-me querer vê-lo logo!
Mince Alors! tells the story of Nina (Lola Dewaere), a young, beautiful and big woman who is married to Gaspard, who only likes thin women. In order to try to seduce him again, Ninca accepts his offer to go to a weight loss programm in Brides-les-Bains. There, she meets Sophie (Victoria Abril), a lawyer who wants to control everything in her life, and Emilie, a mother who believes that 'big is beautiful' even though that doesn't really correspond to her life.
Mince Alors! conta a história de Nina (Lola Dewaere), uma mulher jovem, bonita e grande, que é casada com Gaspard, o qual só gosta de mulheres magras. Numa tentativa de o seduzir de novo, Nina aceita a sua oferta de ir para um programa de perda de peso em Brides-les-Bains. Aí, conhece Sophie (Victoria Abril), uma advogada que quer controlar tudo na sua vida, e Emilie, uma mãe que acredita que 'grande é bonito', apesar de isso não corresponder à sua vida.
Mince Alors!
is a fresh and funny movie that really surprises with the great acting of Lola Dewaere (who got the role for the main character even though she doesn't have very much acting experience!). The story is very simple but you will enjoy the time watching this movie as it really shows the fun these actors had making this movie and the bond the main characters share!
A minha classificação: 3/5
Mince Alors!
é um filme fresco e engraçado que surpreende pela óptima representação de Lola Dewaere (que conseguiu o papel principal, apesar de não ter muita experiência!). A história é simples, mas vão gostar de ver este filme já que mostra mesmo como estes actores devem ter gostado fazer este filme e a ligação que as personagens principais partilham!
| Français |
Mince alors! a été récemment diffusé au Portugal et, encore une fois, je n'ai pas découvert ce film (je commence à croire que tout le monde voit des films français et a besoin de me le dire tout de suite!), mais l'histoire m'a donné envie de le regarder tout de suite!
Mince alors! raconte l'histoire de Nina (Lola Dewaere), une femme jeune, belle et grande qui est mariée à Gaspard, qui n'aime que les femmes minces. Pour le séduire à nouveau, Ninca accepte son offre d'aller à un programme de perte de poids à Brides-les-Bains. Là, elle rencontre Sophie (Victoria Abril), une avocate qui veut tout contrôler dans sa vie, et Emilie, une mère qui croit que «grand est beau», même si cela ne correspond pas vraiment à sa vie.
Ma note: 3/5
Mince alors! est un film frais et drôle qui surprend vraiment avec l'actrice Lola Dewaere (qui a obtenu le rôle du personnage principal, même si elle n'a pas beaucoup d'expérience!). L'histoire est très simple, mais vous apprécierez le temps de regarder ce film, car il montre vraiment le plaisir avec ces acteurs ont fait ce film et le lien que les personnages principaux partagent!